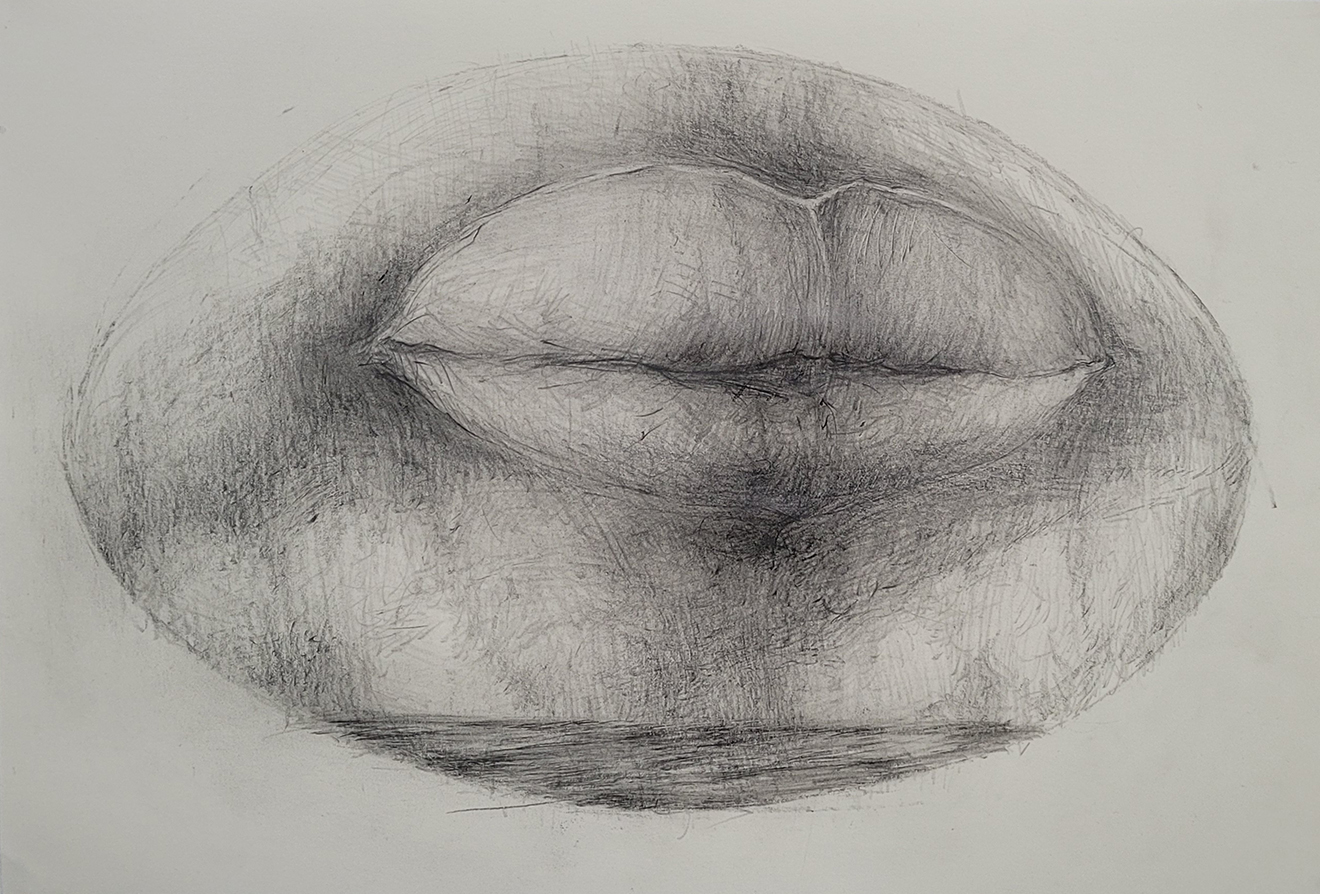 The drawings of Frank van den Broeck (1950) have a characteristic and unmistakable signature. In nimble lines he draws scenes that, although concrete are ambiguous as well. Floating is an often used theme in the work of Van den Broeck, making it seem like objects are in a state of transition, on their way to another place or dimension.
The artist's universe is a frequent subject in his work.
Motifs like the painter's pallet and the opened book, of which the butterfly is, in turn, a derivation, play an important part in his drawings. Other depictions are more threatening with ghost-like creatures and mask-like faces emerging out of nowhere. In a subtle way, there is a constant feeling of transition, with the objects and figures as messengers of an underlying reality.
1950
born in Eindhoven, The Netherlands

education

1972-1977
Koninklijke Academie voor Kunst en Vormgeving, Den Bosch, The Netherlands
1977-1978
Rijksacademie van Beeldende Kunsten, Amsterdam, The Netherlands
lives and works in Amsterdam, The Netherlands

solo exhibitions

2011
Sanguin Foundation, Amsterdam, NL
2010
Galerie Slewe, Amsterdam, NL
2009
Galerie Maurits van de Laar, The Hague, The Netherlands
2008
Art Amsterdam, Galerie Slewe, Amsterdam, The Netherlands
2006
Galerie Slewe, Amsterdam, The Netherlands
2002
Galerie Slewe, Amsterdam, The NetherlandsBonnefantenmuseum, Maastricht, The Netherlands
1999
Galerie Slewe, Amsterdam, The Netherlands
1996
Galerie Slewe, Amsterdam, The Netherlands
1994
Museum De Pont, Tilburg, The Netherlands
1993
Bonnefantenmuseum, Maastricht, The Netherlands
1992
Galerie Ardi Poels, Maastricht, The Netherlands
1991
Stedelijk Museum, Amsterdam , The Netherlands
1989
Bonnefantenmuseum, Maastricht, The Netherlands
1987
Galerie The Living Room, Amsterdam, The Netherlands
1984
Stedelijk Museum, Amsterdam, The Netherlands

group exhibitions

2017
SCAPE, Galerie Maurits van de Laar, The Hague, NL
2016
Track and trace I & II, 25 years Galerie Maurits van de Laar, The Hague, NL
Amsterdam Drawing, Galerie Maurits van de Laar, Amsterdam, NL
Snapshot to a larger order, De Ketelfaktorij, Schiedam, NL
Nog niet eerder vertoond, Willem II Fabriek, Den Bosch, NL
2015
Dancing Light, Huis Marseille, Amsterdam, NL
Paths to Paradise, Rijksmuseum Twenthe, Enschede, NL
Bad Thoughts, Collection Martijn and Jeannette Sanders, Stedelijk Museum Amsterdam, NL
2014
Amsterdam Drawing, Galerie Maurits van de Laar, Amsterdam, NL
Surreal Worlds, Centraal Museum, Utrecht, NL
Collectionpresentation, Museum De Pont, Tilburg. NL
Collectionpresentation, Museum Het Valkhof, Nijmegen, NL
2013
Selected Works, Galerie Slewe, Amsterdam NL
2012
Met Andere Ogen/Through Other Eyes, Selection from the Pieter and Marieke Sanders Collection, Teyler's Museum, Haarlem, NL
Group Manoeuvres, Galerie Suzanne Biederberg, Amsterdam, NL
Mastering the Art of Art, Galerie Jan van Hoof, Den Bosch, NL
Point De Vue, Stedelijk Museum, Den Bosch, NL
Amsterdam Drawing, Galerie Slewe, Amsterdam, NL
The Red Chamber: Bas Lubberhuizen Publishers, Amsterdam, NL
2011
TWENTY, 20 Years Galerie Maurits van de Laar, The Hague. NL
Il Vento del Nord, Galleria Ex-Macelleria, Pontremoli (MS), Italy
Bonnefantenmuseum, Maastricht, NL
Die Zeit Ist Jung, Galerie Maurits van de Laar, The Hague, NL
Art Amsterdam, Galerie Slewe, Amsterdam, NL
All About Drawing. Stedelijk Museum, Schiedam, NL.
2010
Museum Huis Marseille, Amsterdam: '(digitaal?) ANALOOG',
Face to Face, Galerie Maurits van de Laar, The Hague, NL
It was twenty years ago today, Galerie Vous-Ètes Ici. Amsterdam, NL
De Ketelfactorij, Schiedam, NL
2009
Salon du Dessin Contemporain, Galerie Maurits van de Laar, Paris, France
2008
Salon du Dessin Contemporain, Galerie Maurits van de Laar, Paris, France
Galerie Maurits van de Laar, The Hague, The Netherlands
2007
Galerie Maurits van de Laar, The Hague, The Netherlands
2006
Kaapeli, Helsinki, Finland
Galerie Maurits van de Laar, The Hague, The Netherlands
2003
Up to now, Stedelijk Museum, Amsterdam, The Netherlands
2001
Rijksmuseum Twenthe, The Netherlands
De Lege Ruimte, Gent, Belgium
Museum De Pont, Tilburg, The Netherlands
2000
De voorstelling, Stedelijk Museum Amsterdam, The Netherlands
1999
Museum Het Valkhof, Nijmegen, The Netherlands
1997
Galerie Slewe, Amsterdam, The Netherlands