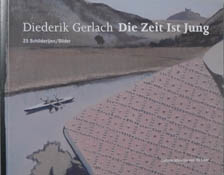 Diederik Gerlach. Die Zeit Ist Jung. 25 paintings/Bilder.
Publication accompanying the exhibition Die Zeit Ist Jung at Galerie Maurits van de Laar 1 May – 6 June 2011
published by Diederik Gerlach/ Galerie Maurits van de Laar i.c.w. Stroom Den Haag.
Text Diederik Gerlach in Dutch and German. Fotography Eric de Vries, Hélène Penninga. Graphic Design Sophia Paeslack.
Illlustrated, paperback, 38 pages, format 15 x 19 cm
Printed by Druckerei Conrad, Berlin, edition 250 copies.
price € 10,-