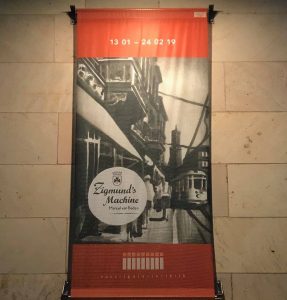 Marcel van Eeden in Zigmund's Machine and FREEDOM 
Marcel van Eeden (1965) exhibits at the Städtische Galerie Fürth (close to Nürnberg). Alongside the existing series series The Restaurant, The Room, and Turm der Blauen Pferde he will present an new series of drawings titled Zigmund's Machine. The story is located in Fürth and tells about the invention of a machine that can extract will, as defined by Schopenhauer, that is present in all energy.
Städtische Galerie Fürth, 13 Jan – 24 Feb 2019. More info at: www.fuerth.de
At Museum De Fundatie in Zwolle, The Netherlands Marcel van Eeden is included in the exhibition FREEDOM: The Fifty 50 Dutch Key Artworks Since 1968, curated by art critic Hans den Hartog Jager. Marcel van Eeden shows his Wiegand series that premiered at the 2006 Berlin Biennale and was purchased by the Goetz Collection.
Museum de Fundatie Zwolle. 18 Jan – 12 May 2019. More info at: www.museumdefundatie.nl