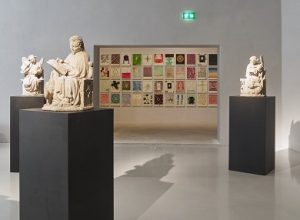 Martin Assig at Museum Kolumba, Cologne

Martin Assig (1959) takes part in Me in a no time state – on the Individual,
10 years Kolumba. In the exhibition that celebrates the 10th anniversary of the museum works by contemporary artists are combined with religious art from the middle ages and the baroque era from the museum's collection. Martin Assig shows 92 works on paper from his St. Paul series. The museum building designed by the renowned Swiss architect Peter Zumthor is in itself worth a visit. The exhibition now enters its last weeks.
Museum Kolumba Cologne through 14 August see: www.kolumba.de