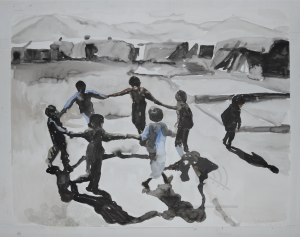 Nour-Eddine Jarram solo in Rijksmuseum Twenthe
Nour-Eddine Jarram has an extensive retrospective titled Beeldenstorm (Iconoclasm), at the Rijksmuseum Twenthe. Jarram studied at the Académie des Beaux Arts in Casablanca and after that at the AKI in Enschede. He decided to continue to live and work in the Netherlands and developed a characteristic style in which Islamic calligraphy, Dutch golden age painting, biblical figures and surrealist motifs come together. The exhibition follows Jarram's creative development and his quest to balance his preference for figuration and the influence of Morocco's ornamental visual culture. The title of the exhibition refers to Jarram's desire to rethink history by creating images that alter our view of the past.
The exhibition offers an overview of Nour-Eddine Jarram's work from 2007 to 2020.
19 November 2020 till 9 May 2021, more info at: www.rijksmuseumtwenthe.nl
Rijksmuseum Twenthe, Lasondersingel 129, 7514 BP Enschede NL