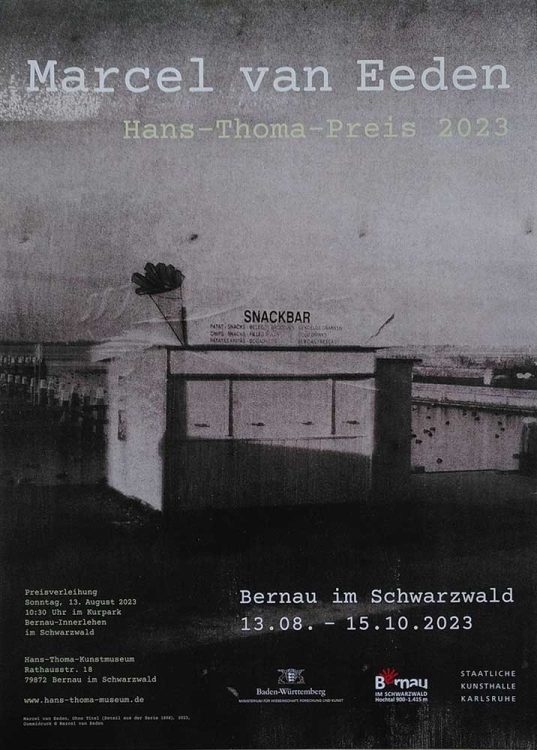 Marcel van Eeden wins Hans Thoma prize
Marcel van Eeden (1965) has been awarded the Hans Thoma Prize, which is awarded every two years to an artist born or working in the German state of Baden Württemberg. The prize is named after painter Hans Thoma (1839 -1924) who was a professor at the Academy of Karlsruhe and director of the Kunstgalerie Karlsruhe from 1899 to 1920. Previous winners of the prize include Silvia Bächli, Anselm Kiefer, Karin Sander, Thomas Ruff and Otto Dix. The prize consists of a money award and an exhibition including a publication at the Hans Thoma Kunstmuseum in Bernau.
Marcel van Eeden, the current director of Kunstakademie Karlsruhe, made a series of gum-print photographs of places Hans Thoma could have travelled to when he went to Amsterdam in 1898 to visit the great Rembrandt exhibition. During his research for the project, van Eeden stumbled upon an anti-semitic and German nationalist commitment of Hans Thoma that was hitherto unexposed in (art) history.
In the 1898 exhibition, Marcel van Eeden displays his series of gum-print photographs, together with the documents he discovered that reveal Thoma's anti-semitic and nationalistic preferences. The documents have since sparked a discussion to rename the prize.
till 15 October, Hans Thoma Kunstmuseum, Rathausstr. 18, Bernau im Schwarzwald, Germany
more info at: www.hans-thoma-museum.de
for publication 1898:  www.kerberverlag.com