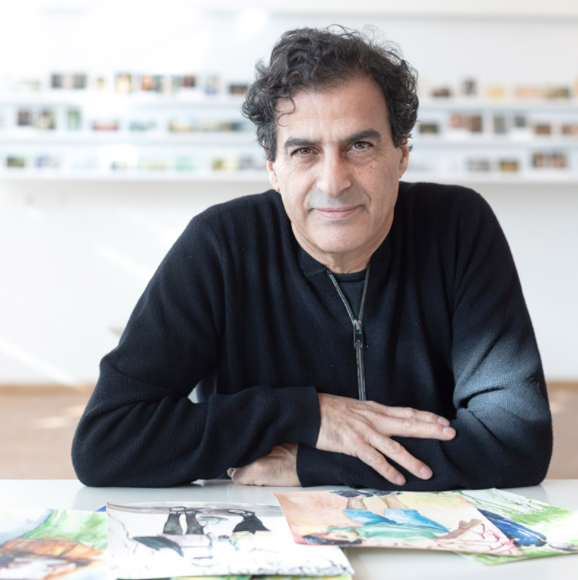 Nour-Eddine Jarram wins Jeanne Oosting prize for watercolour
The Jeanne Oosting Prizes 2021 for painting and watercolour have been awarded to Lily van der Stokker and Nour-Eddine Jarram. The jury, consisting of fellow artists Maaike Schoorel (chairwoman), Hadassah Emmerich and Lieven Hendriks, chose Lily van der Stokker and Nour-Eddine Jarram on the grounds of their individuality, expressiveness and constant quality of their oeuvre. The prize is an incentive for artists who involve figuration in their work.
At the AKI academy in Enschede, Nour-Eddine Jarram (1956) was initially inspired by the classical Dutch masters, like Rembrandt, his idol, and other 17th-century painting, such as the landscapes of Jacob van Ruisdael. He often worked in charcoal and pastel. Islamic characters coincided with Dutch landscapes or Biblical figures with surrealistic motifs. As an ethnographer, he went in search of the meanings of all those images, but at the same time he gave them new artistic charges. Conquering figuration, not common in Islamic culture, for a long time felt like a struggle, but around 2015 there was a tipping point. He started making portraits of refugees, mostly in watercolour, focusing on subjects with which he was engaged, such as the poignant images of displaced persons trying to reach Europe from Africa. On their way to the promised land, in search of new opportunities, just like himself when he left Casablanca for Enschede. The involvement with people in need resulted in an impressive series of watercolors and drawings.
The work of both laureates is on show 7 through 29 August 2021 at ((R)), A Rose, Rozenstraat 59, Amsterdam.
https://jeanneoostingstichting.nl