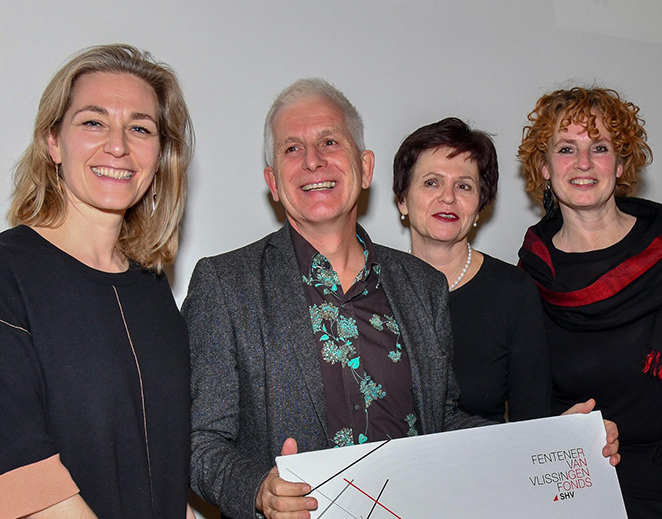 Robbie Cornelissen receives Fentener van Vlissingen culture award
Robbie Cornelissen (1954) was recently given the Fentener van Vlissingen Culture Award. Cornelissen receives the prize as an appreciation for his exceptional oeuvre and inspiring contribution to the international, national and local Utrecht arts and cultural climate. Recently he curated the much appraised exhibition on contempory drawing De Line Up, at the Centraal Museum Utrecht, The Netherlands.
In the jury report he is praised for the versatility of his oeuvre and his generosity towards others:
"… His career as an artist took an important turn when he started to conceive drawing as an autonomous medium. Both the craftsmanship of his monumental drawings and his experiments with animated films play a key role in this. His innovative contribution to the medium lies above all in transgressing from drawing by researching and incorporating other disciplines… "  " … Cornelissen also is a generous personality who has made a vital contribution to the Utrecht art climate … "
Robbie Cornelissen is known for his large-scale drawings but also for exploring the limits of drawing. He made several animations and allowed the audience to participate in the process of making his drawings. Robbie Cornelissen exhibited extensively on a national and international level at a.o. the Centraal Museum Utrecht, Gemeentemuseum Den Haag, Stedelijk Museum Schiedam, Hamburger Kunsthalle, the Lyon Biennale, Musée des Arts Décoratifs au Louvre, Paris, York Quai Gallery Toronto, Songzhuang Art Center, Beijing .
In January Robbie Cornelissen will exhibit with Rik Smits and Dirk Zoete at Gallery Maurits van de Laar in This Must be the Place, an exhibition about imaginary architecture. 6 January – 3 February 2019.