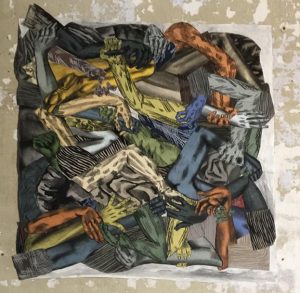 Susanna Inglada in Mirrors of Time
Susanna Inglada (1983) participates in the exhibition Mirrors of Time at Castle d'Aspremont-Lynden in Rekem, Belgium. Over the last decade Annemarie van Laethem has organized a summer groupshow in the castle, this year the exhibition focuses on how artists reflect our present time in their work.
Artists participating besides Susanna Inglada are: Karin Arink, Bram Braam, Koen van den Broek, Charlotte Caspers, Jeroen Cremers, Eric Croux, Jeroen Eisinga, Eddie Fontaine, Tatiana Istomina, Mehdi-Georges Lahlou, Koen van Mechelen, Otobong Nkanga, Thierry Oussou, Marleen Rothaus, Andreas Schmitten, Insa Schülting, Lieven Segers, Slammer, Berndnaut Smilde, Topp & Dubio, Marta Volkova & Slava Shevelenko.
24 July – 27 September, Groenplaats 1 & 4, Oud Rekem, Belgium. more information at: www.forumtri.be