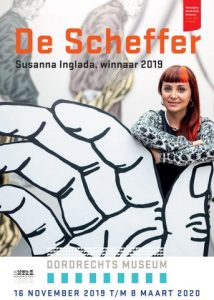 Susanna Inglada wins De Scheffer Award 2019
Susanna Inglada (1983) has won the National Art Award De Scheffer 2019. De Scheffer is a biennial incentive prize from the Dordrechts Museum Association (VDM) for young visual artists. For this occasion, Susanna Inglada made the installation Thin Skin About to Tear, which consists of the wall painting Susanna and the Elder and drawings that are partially visible in the space. Susanna Inglada convinced the jury with her expressiveness, urge to innovate and the social and political relevance of her work.
Susanna Inglada makes expressive drawings of people who are involved in an intense, sometimes even violent interaction with each other. Inspired by aspects of Spanish history, Inglada creates theatrical 'scenes' that also include references to painting. "Inglada's work shows an inquisitive spirit and is based on a dramatic storytelling tradition. Her work refers to a past that is still current and where power relations are central," according to the jury report.
on show until until 8 March 2020, Dordrechts Museum
for more information: dordrechtsmuseum.nl